Andrew Kirchein and Matilda Heimuller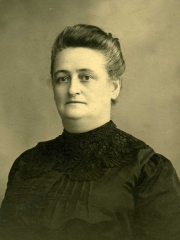 Andrew Kirchein and Matilda Heimuller were the grandparents of Mildred Brown (Nana). The couple emigrated from Germany to New York. The couple had 5 daughters and two sons: Elizabeth; Anna Emelia "Minnie"; Matilda "Tilly;" Katherine; Mary; Charles and William.
Andrew was a tinsmith who worked for the Waldorf-Astoria Hotel. At that time, the Waldorf was on the 5th Avenue site of the Empire State Building.
Aunt Kaye Brown claimed she was 13 when Matilda Heimuller died. Hence, Matilda must have died about 1916.