Donald B. Dunham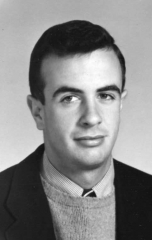 Don Dunham was born on Sept. 7, 1936 in Mount Vernon. Don was the "apple of his mother's eye."
In 1954, Don graduated from Iona Preparatory School (High School) in New Rochelle.
Don attended Georgetown University where he majored in English Drama and became a member of the Drama Club. Don played top roles in 12 plays such as West Side Story (Lt. Schrank); Mister Roberts (Doc); Bellamy Trial (Defense Attorney) and Mind of a Killer (Hugh – the psychologically-disturbed scientist) (Source: 1961 Resume).
While a freshman at university, Don also participated in the Air Force ROTC program.
By 1961, Don was acting for Fenimore Players – Westchester's oldest non-professional play producing company. Fenimore Players was in their 48th season as a company in '61.
Don played the leading male role of Augie Poole in the play – The Tunnel of Love. His previous appearances with Fenimore included: Ladies of the Jury, Three Men in the Dog Suit, The Bellamy Trial, The Third Best Sport, and Born Yesterday. (Source: The Daily Times, Mamaroneck, NY 12/18/61) Don also served on Fenimore Player's Board of Directors.
Early in 1962, Don became a professional actor. In fact, it was in August of that year that he became a member of the Actor's Equity Guild (Actor's Union). Don loved acting and was a very talented actor.
A good-looking man with hazel eyes, Don was 5'11" 165 lbs. He dressed impeccably.
At about age 25 (1961) Don married Kathleen Dowling. The couple lived at 130 Pelham Road.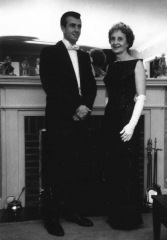 Don was not necessarily a happy person nor was he happy in his marriage with Kathleen Dowling. This resulted from his trying to find his way and from his trying to take care of his mother. When Don's father suffered his heart attack, Nana leaned on her 15 year old son to be the moral support of the household. This was a tall burden on a young man. Don had also been very spoiled with luxury and then suddenly the luxury disappeared when TWD Jr. had his heart attack. Don lived traumatic teenage years. Nana became much too dependent and attached to him for moral support.
Don was very fond of my mother Rosemary and hence very kind to her. They became close friends. When Don had surgery after his first automobile accident, he wanted my mother to look after him. In fact, he came and lived with Rosemary and Ted III.
On 14th Sept. 1962, twenty-six year old Don died in an auto accident near Mexico City, where he had been scheduled to appear in an industrial film.
We can only imagine how difficult it must have been for Nana losing her son Don at such an early age.
Nana loved to write and found therapeutic comfort in writing down her feelings and composing poetry. She wrote many, many poems after Don died. Some two years after Don's death, Nana wrote the following poem on Sept. 10, 1964. She entitled the poem
"Love".
"Love"
You see, when a loved one passes away,
The memories aren't buried, they are here
to stay,
In your mind, in your heart, in all that
you see or do.
Love can't be turned off and on. It is a
vital part of you.
I loved him, just because he's gone, it
hasn't changed,
To banish the memories of him, To me
would seem strange.
I only hope, forgive me, that my stay
here won't be for too long.
My dream is to be united some day,
with my son, Don.
Amidst some other writings, I found the following prose. The verses show the depth of Nana's religious conviction.
This is just a way to get rid of pent up emotions,
I am done here and must keep calm, one of my resolutions.
You see, if I get upset, I don't feel very well,
So you see, I have to be careful or I feel like hell,
I wonder would Don get a kick out of my pastime,
Writing has always been a favorite of mine
But I never let him read any of it,
He was taken away suddenly,
To go on sure takes a lot of grit,
When you lose someone they are almost a part of you,
They are taken away and you are bewildered,
You really don't know what to do,
God helps you by putting you in a trance,
Yet you live after a fashion, as it were,
With a broken heart, not very good health
and always growing older.
As I look back now, I wonder how did I make it this far,
Please help me more, dear God,
I couldn't have made it without you,
You know it I'm sure but I want you to know I know it too.