Charles Moses Brown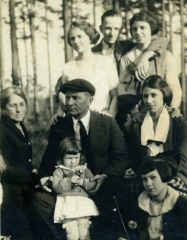 Charles Moses Brown was born 27th Dec., 1864*. He was called Mose (versus Moses). Mose's wife's name was Farr. Mildred (Nana) and Aunt Kaye called the couple Uncle Mose & Aunt Farr. The couple had 5 children: Adalyn Haskins Brown, Mary, Brownie, Fannie, and son also named Charles Moses Jr. The son Charles Moses Jr. was born Sept. 9th, 1904. Charles Moses Jr must have been the youngest child as a picture of his 4 sisters dated 11/9/1904 confirms that each of his sisters were older than him.
Jean Weiss recalls meeting some of the brothers and sisters of Robert E Brown – specifically Uncle Mose ( Charles Moses ) and Aunt Belle. Upon one visit from Florida, Mose & Belle decided to go to downtown via a trolley car and some black people got on the trolley car whereupon they got off. They then called TWD Jr. but not knowing where they were couldn't tell him where they were, so he had to follow the trolley car tracks to locate them. Jean said it wasn't that they were backward – they were just "as Southern as Southern gets."
* From a 11 Dec., 1934 letter written from Mandarin, Florida to Catherine Brown,
Uncle Mose claimed he was going to be 70 on 27th Dec. 1934. He also wrote that his wife Farr was suffering from neuritis and referenced prayer several times in his letter.