John Givens MacGregor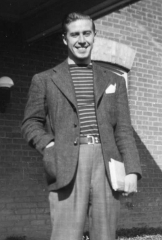 John Givens MacGregor was born Jan. 26th, 1919 in Arnprior, Ontario to Allan & Irene MacGregor. A very handsome man with a magnetic personality, John was popular with the ladies. He always had good friends and loved to entertain. John was talented musically and played both the accordion and guitar. His sister Marg remembers him as having a wonderful sense of humor. He teased Marg unmercifully. Though John was very kind, he was not really a religious person.
John had a great love for dogs, hunting, fishing, boating and his cottage.
John was particularly close to his mother. His father Allan wanted John to take over his dental practice but John wanted to fly. John left at the age of 19 to attend the Casey Jones School of Aeronautics in Newark, N.J. (1938). Because John had this pilot training, he became a pilot officer in the Royal Canadian Air Force (RCAF). He was dishonorably discharged, later joined the army and became a Sergeant. John was never overseas.
After the war, John flew for Canadian Pacific Airlines. John was instrumental in persuading his sister Rosemary to go and interview with American Airlines. This led Rosemary to become an airline stewardess.
John married Catherine (Katy) Moore about 1955. John & Katy never had children.
Katy expected and brought out the best in John.
John worked as a police officer with the Ontario Provincial Police (O.P.P). Afterwards,
he was employed in Personnel for Northern Electric.
John died of a heart attack on Mar. 7, 1969 at age 49.