Catherine MacGregor Kerr
Catherine C. McGregor was known in her younger years as Kate. She was the oldest child of John and Ruth McGregor and was born in Beckwith Township in 1854. She moved with her family to Douglas in 1861. She grew up on the farm, attended school in the village and took an interest in farm activities.
In her early twenties she was romantically attached to William Boland, brother of Townley Boland and son of Abraham and Anne Gillespie Boland. William and Townley ran a stagecoach from Cobden to Eganville. The horses ran away on William and he was killed. It was about that time that Catherine gave birth to her son Allan. Some of the ancestors felt that Allan MacGregor might have been the son of William Boland.
Kate and Allan remained on the farm for a few years and Allan became a great favorite of his grand parents John & Ruth and his Uncle Peter and Aunt Eliza Jane. When the papers were drawn up transferring the farm from John to Peter both Allan and his mother were provided for. Peter MacGregor must "maintain, clothe and educate the son of Kate McGregor until he attains the age of sixteen years".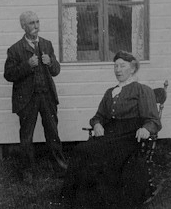 In the late 1880's Catherine McGregor married John Kerr, of Ottawa and they had a store in the village of Douglas. They lived in the house occupied in more recent years by Charles and Geraldine Lynch. Not much is known about John Kerr's business interests, however they appeared to be quite successful. He was secretary-treasurer of the school board for many years and on numerous occasions he had to lend the board money so they could meet their commitments.
Kate Kerr was famous for her cow, which she kept in a small building behind the house and provided the house with fresh milk. George Walsh remembered that each fall, he and his father took down a load of hay and stored it in the loft of the building. He mentioned an incident, where they were passing the hay up to the loft, to John and he in turn was passing it back to Kate who was piling it at the back. John accidentally jabbed Kate with his fork. She said," John you jabbed me", and he replied, "Put a little turpentine on it Katie it will be all right".
Also Harold Breen recalled when John and Kate went away for a few days, his mother had to milk the cow. In order that the cow did not make strange, Mrs. Breen had to wear Kate's hat and coat.
Allan MacGregor lived with his grandparents after his mother's marriage. He received a good education, graduating from the University of Toronto in dentistry in 1900. He set up a successful dental practice on John Street, which lasted over forty years until his death in 1942.
John Kerr and Catherine are buried in Beechwood Cemetery in Ottawa.