Thomas Henderson and Mary Ann Johnson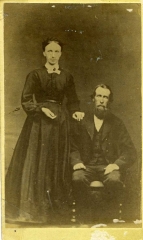 Some Henderson's were among the Lanark Society Settler's of 1820 to Lanark Township.
This was articulated by Carol Bennett McCuaig in the Lanark Society Settlers, 1820-1821, page 17.
Thomas Henderson was born in Wales, England in 1838. Thomas died at age 54 in 1892. His wife Mary Ann Johnson was born in 1850 in County Cork, Ireland. Mary Ann died at age 47 in 1897.
This picture of Thomas & Mary Ann was taken about 1875.
The couple had 4 sons and 1 daughter. A family bible revealed the children's names and birthdates:
John Samuel (6/1/1872);
William Francis (6/6/1875);
Robert Ephraim (Bob); (9/8/1877);
Thomas George (9/19/1882) and
Jane Elizabeth (11/23/1884).