Thomas G. and Mabel Marguerite Henderson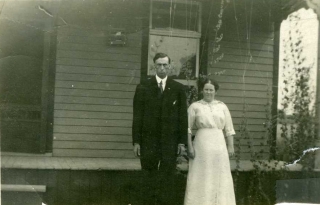 Thomas George Henderson was born in Packenham on 19 Sept. 1882. He went by George.
George married Mabel Marguerite Givens on Dec. 11, 1907 in Pakenham. Their only child Ewart was born on 22 Oct, 1914 in Arnprior.
George operated the Commercial Hotel in Pakenham and was a butcher. The hotel was where the Graham Street apartments are.
In a loose leaf notebook, Ewart recorded that his father George died in 1949 and that his mother Mabel Margaret died in 1952. (Somewhere there was indication that Mabel's death date was 21 Feb. 1953.)
A Henderson farm was located on lot number 21 in the 10th Concession of Pakenham. However, it is unknown who operated the farm.