Irene Clarke Givens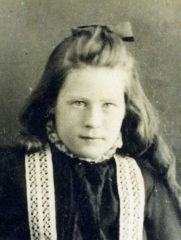 Irene was born July 23, 1893 in Packenham, Ontario to John Wesley Givens and Margaret Ann Clarke.
John Wesley was the blacksmith. "Since horses were the fastest and only means of transportation besides walking, blacksmiths were important…. John Givens had his blacksmith shop where Ralph McKenzie's garage now stands" John Wesley resided on Isabella Street. Jean says he enjoyed playing euchere and 500.According to Ewart, Irene's father also enjoyed playing horseshoes.
The youngest of eight sisters, Irene was closest to her eldest sister Annie Elizabeth.
Marg remembers her Aunt saying that "in playing as a child", Irene wanted to marry a Doctor.
Rumor has it, there was a lot of animosity in the Givens home and Irene, a physically beautiful woman, wanted to get out of the environment.
Little is known of the Givens home, except the unfortunate fact that Irene's sister Hilda was put out of the home at age 17 when she was raped. Hilda bore a baby boy who died at birth.